Birmingham Car Accident Lawyers
When you call a Birmingham accident lawyer, you'll benefit from years of court experience that make your legal issues less challenging. A Birmingham car accident attorney will also make sure that your insurance claim is not denied without reason and treated with bad faith by your insurance company.
After a traumatic car accident, the last thing you want to do is manage your way through a web of litigation. If someone else's negligence caused your accident, however, the compensation our Birmingham injury attorneys can help you receive for your medical bills, pain and suffering, and lost wages can be worth the difficulty.
A Look at Alabama's Road and Highway Infrastructures
Not all car accidents happen because of driver negligence. Even the best drivers may get into accidents when the roadway presents an unavoidable hazard. Alabama's roadways have caused hundreds of car crashes in the past. Potholes, uneven shoulders, fallen trees, unmarked construction zones, loose gravel, malfunctioning traffic lights, and poorly designed infrastructure can all spell trouble for unsuspecting drivers. Here are some facts about Alabama and Birmingham's transportation networks:
Birmingham is the largest metropolitan area in Alabama. Developers created the city around railroad transport and industrial enterprises. The metropolitan area encompasses seven counties and is home to over 1,145,600 people, as of 2013.

There are an average of 20 active road projects at all times throughout Alabama. Currently, these projects have construction on 1-59, SR-117, US-72 West, US 280, SR-182, 1-10 Eastbound, and several other major highways.

The infamous Malfunction Junction, where Interstates 20, 59, and 65 intersect dangerously, forcing motorists to cross multiple lanes to get where they're going, is scheduled for a $750 million makeover in 2018.



US Highway 431, running from the Alabama-Tennessee border to Dothan, Alabama, is one of the world's most dangerous roads according to the World Health Organization. It made number four for the most dangerous in the country. WHO cited risks such as poor visibility, high speeds, and sudden lane changes.
Avoiding the state's most dangerous roads could reduce your chances of being in a collision. However, even the most prudent driver could become a victim when roadway conditions are unsafe for driving. Dangerous road infrastructures and lack of proper maintenance typically come down to government negligence. The City of Birmingham is responsible for roadway safety. Suing the government for a car accident is possible, but it's not easy. Retain an attorney to improve your chances of success.
Car Insurance Claims Dos and Don'ts
After any car accident in Alabama, drivers have to make a report to their car insurance companies. Minimum car insurance coverage amounts apply to all motorists in the state. If the other driver was at fault for your accident, his or her insurance company will most likely contact you – sometimes as soon as the day of the collision. There are dos and don'ts that every driver should know when talking to insurance agents about accident claims. Here are some of the most important:
DO report your accident as soon as possible. Most insurance companies have strict rules in place regarding when you must report to be eligible for coverage.

DON'T give any statements to your insurance company. You do not have to give the agent permission to record your conversation. The agent can use anything you say in your statement against you to argue for a lower compensation amount.

DO be honest with your insurance agent. Don't admit fault, but give your agent all the facts of the accident. Stick to what you know. Don't speculate or make guesses.



DON'T accept a fast settlement offer. It is the insurance claims adjuster's job to convince you to settle for as little as possible. You do not have to accept the first settlement offer given to you. Speak to an attorney first to find out the true value of your claim.
DO feel free to contact The Mitchell Law Firm, LLC before talking to insurance companies. We offer free consultations, so you can discuss your options at no charge. If you retain our team for your claim, we can speak with insurance companies on your behalf and take charge of settlement negotiations.
When in doubt, speak to a lawyer. Your lawyer will be on your side, not that of a large corporation like your insurance agent. Our team will do what is in your best interests. If a settlement doesn't result in satisfactory coverage for your damages, we have the power to take your claim to mediation or to trial if necessary. Call (866) 948-6275 to discuss your car accident insurance claim in Birmingham today.
Common Accident Injuries
So while car accidents remain one of the leading causes of deaths and serious injuries in the U.S., in Alabama auto accidents are even more serious and dangerous then most other places across the U.S. Car accidents are the cause of a number of different types of injuries. These injuries resulting from car accidents range from being not very serious to very serious. Here is a list of some of the more common injuries that result from auto accidents in the state of Alabama.
Broken bones
Brain injuries
Back injuries
Neck injuries
Spinal cord injuries
Internal injuries
Burn injuries
Leg and knee injuries
Wrongful death
What to Do After a Car Accident in Birmingham, AL
It can be difficult to know what to do after a car crash. First, don't admit fault. Second, call the police. The police can file an official report of the accident, recording the details and getting the other driver's information. Third, seek medical attention for your injuries. Even if you don't feel injured right away, see a physician to make sure you don't have hidden injuries, such as a displaced disc in your back that may slip later.
The faster you seek medical attention after a car accident, the better your chances of receiving compensation in court. If the jury sees that you waited a few weeks before going to the doctor, yet are trying to receive compensation for pain and suffering, they'll be less likely to rule in your favor. Follow any treatment your doctor recommends. That way, the person whose negligence caused your accident (the defendant) can't claim you made your own injuries worse by failing to treat them properly.
The next step is to call a local Birmingham personal injury lawyer who specializes in car accidents. Unlike slip and fall accidents or other negligence accidents, car accidents in Alabama have their own set of laws that your auto accident lawyer in Birmingham, AL needs to follow. Even if you're not sure who or what caused the accident, call and discuss it with an auto accident attorney in Birmingham, AL. Most lawyers, including Michael Mitchell of The Mitchell Law firm, LLC offer a free initial consultation.
Alabama Car Accident Statistics
The state of Alabama has one of the highest rates of auto accidents in the U.S. The motor vehicle occupant death rate in Alabama is 13.7 (per 100,000 population), and the national average rate is 7.0, according to the Centers for Disease Control (CDC) based off data from 2012.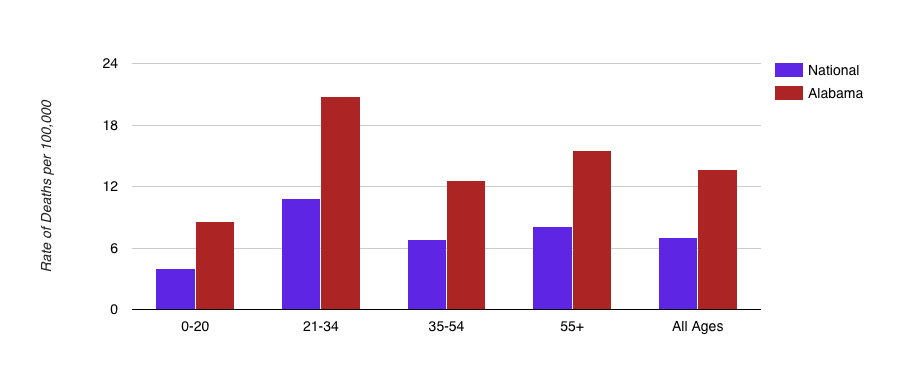 Source: CDC Motor Vehicle Safety 
This high auto accident death rate in Alabama is not because Alabama's population is worse drivers, or because they don't wear their seatbelt as often. No, according to the Alabama Department of Public Health, it is because such a large segment of Alabama's population lives in rural areas where hospitals are farther distances away than normal.
Rural Vs. Urban Fatal Car Accidents in Alabama
While total crashes and fatalities across the state decreased by almost eight and 29 percent between 2005 and 2014, Alabama still has much room for improvement, according to the latest crash facts from the Alabama Department of Transportation. In 2014, a crash occurred every four minutes. Of those, someone was injured every 13 minutes while a fatality occurred every 10 hours.
Most Dangerous Travel Times
While more accidents occur between 3PM and 6PM, crashes with fatalities tend to happen after dusk or before dawn. The graph above shows the percentage of total car accidents and percentage of fatalities by the hour. In total, there were 133,219 car accidents and 821 fatalities in 2014. The most crash-pone day of the week is Friday while the deadliest day is Saturday.
Traffic Fatalities Per 100 Million Miles Travelled
Understandably, the more miles traveled the more fatalities. In the graph above you can see the dip in fatalities during the recession- a time marked by people saving money by spending less on gas and not traveling by car as much. Traffic analysts are closely monitoring conditions now, however, as the economy is rising again and people have returned to vacation and leisure driving.
Alabama drivers have greater than one in three chances of involvement in an injury or fatal crash in their lifetime. Almost all drivers, 98 percent, statistically will be involved in an accident of any severity level in their lifetime.
10 Safe Driver Habits to Always Follow
Pay attention to and obey traffic signals
Don't drive drunk, drugged, or drowsy
Don't text and drive (or any other forms of distractions that take your eyes off the road)
Obey the speed limit
Drive carefully and follow posted speed limits in construction and school zones
Share the road with bicycles and motorcycles (and know the laws surrounding sharing the road)
Don't drive drowsy
Use properly-installed child restraints- even when in rental cars, planes, etc.
Wait for trains before crossing the tracks
What a Car Accident Attorney in Birmingham Can Do For You
When you work with a skilled Birmingham car accident attorney, you can identify the source and cause of the negligence that led to your accident. Your Birmingham, AL accident lawyer will explain whether you have a case and discuss your chances of winning compensation. Then, your lawyer will file a claim against the defendant and conduct an investigation into the accident.
The investigation phase includes taking photos of the accident scene, checking roadway security footage, interviewing eyewitnesses, reading police and medical reports, and hiring a key witness (usually a health care professional) to attest to your injuries. After the preliminary investigation, your case will most likely move to mediation. Our lawyers are skilled at resolving disputes and reaching a satisfactory settlement during mediation, so you may not have to go to trial.
If your case does go to trial, we'll walk you through the process. We understand a trial can seem daunting, but with an experienced Birmingham accident lawyer by your side, you'll feel confident in the courtroom. At The Mitchell Law Firm, LLC, we believe in communication. We stay in touch with clients for the duration of the case, so they're never left in the dark.
Contact The Mitchell Law Firm's Birmingham Accident Lawyers
In Alabama, the statute of limitations is two years after an accident to file a claim against a negligent party. The faster you file, the easier collecting evidence will be. If you've been in a car accident, don't hesitate to call The Mitchell Law Firm, LLC, after you seek medical attention. We have experience handling all types of car accidents, from fender benders with property damage to head-on collisions with permanent disability. Let us help you through your car accident. Call (205) 942-0249 or contact us online for a free consultation today.
"I was injured when a car rear-ended the vehicle I was in. Mike took over the case and did an awesome job for me. I will call him in the future if I need a lawyer." – Heather T.